Ven. Kensur Jhado Rinpoche
In Italy from the 1st to the 14th June

Dear SDK friends, From the 1st to the 4th June we will be very glad to give hospitality to Shridhanyakataka the Ven. Kensur Jhado Rinpoche, one of the most authoritative and expert masters in the Kalachakra Tantra.
The teachings programme is part of the study and preservation project of the Kalachakra Tantra began in 2001 always by Rinpoche and foresees a second stage at the Northern Shambhala Centre of St. Ginesio (MC) with which we have a very close collaboration and a teachings programme shared and approved by the Ven. Kensur Jhado Rinpoche.
Moreover the journey to Italy is part of a European tour operator in which Rinpoche will bestow further teachings and initiations of Kalachakra of which we will let you know as soon as we have the right dates and programmes.
***
SHRI DHANYAKATAKA from the 1st to the 4th June
The SDK teachings will be on the instructions to the approximation retreat of Kalachakra about the text: "The Hook that Draws in the Two Siddhis: How to conduct an approach retreat using the Glorious Kalachakra Mind mandala" that Gavin Kilty and Andrea Capellari have already translated in English and Italian in occasion of the course. Probably it will be also bestowed a Jenang (Innate Kalachakra) belonging to the ritual practices of the Kalachakra Tantra.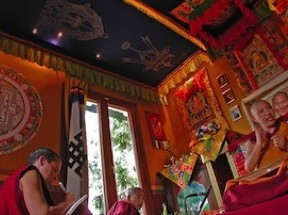 Ven. Jhado Rinpoche a SDK
***
NORTHERN SHAMBHALA from the 8th to the 14th June
8th June: preparation rite for the consecration of the Kalachakra statue. 9th June: Jenang of White Visvamata and Instructions to the Practice and how to lead the Retreat.
10th -14th June: Teachings and instructions to the Sadhana practice of the 13 Kalachakra Deities of Pancen Losan Choky Gyaltsen.
For further information: info@northernshambhala.org http://northernshambhala.org/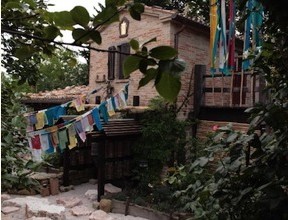 Northern Shamhala Temple - San Ginesio (MC)
***
We are still preparing the event together with the Northern Shambhala and we will send you further information concerning the sessions, timetables, accommodations and so on as soon as possible.
Both the SDK Gompa and the Northern Shambhala one have a limited number of seats and they can accommodate 25 persons at most.
The persons, who are interested in, can already send an e-mail with a reservation option writing to us to: sdk@kalachakraitalia.org