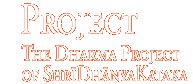 Shri DhanyaKataka (SDK) is not a Dharma Center but a Cultural Association made by practitioners of Buddhadharma who gave life to a Dharma project concerning the Kalachakra Tantra.
The purpose is to provide the practitioners with the useful tools to deepen the knowledge about the Kalachakra Tantra in a gradual way and above all consistent to a pure Dharma transmission, under the guidance and supervision of Ven. Kensur Jhado Rinpoche.
The motivation of the SDK's founders is arisen by altruism and devotion for the Buddhadharma and there are no lucrative purposes, that's the choice to operate as a non-profit Association. For this reason the Association is supported by membership contributions and donations.
The donations support the Masters, translators, Buddhadharma course and the costs of the publications' production. Shri DhanyaKataka will have therefore the opportunity to exist and progress, thanks to the support of the members becoming the promoters of it.
It is important to know that the realization of each Dharma project is a result of a long work where the only motivation is the transmission and preservation of the Buddha Dharma.
I wish this Dharma Project will widen and benefit all sentient beings encouraging the spread of a Buddhist Spirituality which leans its foundations on peace and universal harmony.
Dr. Alessandro Bracci

Chairman of ShržDhŗnyaKataka