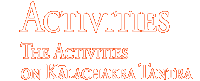 On 27th August, 2001 at the SDK Gompa, Jhado Tulku Rinpoche inaugurated the Buddhadharma activity, with a ten days' course, giving the oral commentary transmission about " The Guru Yoga of Kalachakra in connection with the six-sessions in completely facilitating form " by Ling Rinpoche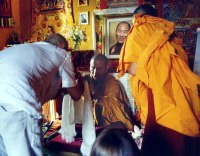 The Dharma activities devoted to the Kalachakra Tantra are:
• Direct translation of the Tibetan root texts in Italian and English and their publication.
• Specific teachings about the Kàlachakra Tantra and Tantrayana.
• Practice group about the Six Session Kalachakra Guru Yoga at the SDK Gompa with monthly meetings in accordance with the other Kàlachakra worldwide practice groups.
• Teachings about the rituals and practices.
• Audio, video and written archives.
• Bibliographies of texts in English and Italian.
• Tibetan Root Texts' archive.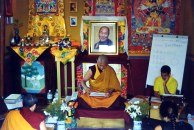 The Kalachakra teachings are at the moment bestowed by the Ven. Kensur Jhado Rinpoche. The Tantrayana and Sutrayana teachings and Initiations are bestowed by the Ven. Tulku Gyatso Rinpoche. The Sutrayana teachings, Lam Rim and the introduction to the Tibetan Buddhism are by the Ven. Ghesce Tenzin Tenphel. The meditation courses and the translations from Tibetan to Italian are by Andrea Capellari.